2018 KC AUTO SHOW DATES AND TIMES
February 28, Wednesday 5 p.m. – 10 p.m.
March 1, Thursday 10 a.m. – 10 p.m.
March 2, Friday 10 a.m. – 10 p.m.
March 3, Saturday 10 a.m. – 10 p.m.
March 4, Sunday 10 a.m. – 6 p.m.
MEET THE CHAIRMAN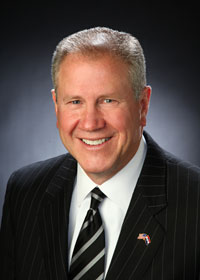 RANDY REED
President of Reed Automotive Group
With a commitment to exemplary customer service and a business model rooted firmly in his faith, Randy Reed, President of Reed Automotive Group and Chairman of the 2018 KC Auto Show, has been serving the Kansas City car buying community since opening his first dealership almost 30 years ago.  With the help of his two sons, he now oversees three dealerships – Reed Buick GMC, Reed Chevrolet, and the recently opened Reed Jeep Chrysler Dodge RAM of Overland Park.
The car business is a natural fit for Randy. His father worked in a dealership in a small Iowa town and he was simply following in his footsteps. "From the minute, I started working in a dealership, I fell in love with it.  I enjoy building teams, serving customers and helping people buy a vehicle that's perfect for them.  The car business is such a uniquely American industry – I just can't imagine doing anything else," said Randy.
Randy prepared for his career at a place known for building well-rounded leaders, the United States Air Force Academy.  After graduating, he went on to become a real-life Top Gun, flying the F-15 Eagle.  He continued his business education at Troy State University, graduating with an MBA in 1984 after writing his thesis on a topic that is the foundation of his dealerships…the relationship between high levels of customer service and business success. In fact, his company's purpose is to, "Serve our customers by providing the region's best dealership experience."
In addition to serving customers, Randy and his wife Karen, believe in serving the community.  They are involved with many civic and faith-based charitable organizations including homeless shelters and food pantries. When he's not busy in the dealerships, Randy enjoys running, reading, flying, playing golf, skiing, and spending time with his two grandchildren. To learn more about Randy Reed dealerships, visit reedauto.com.